Surf and Yoga
are very complementary and can be practiced before or after each session..
The body of the surfer prepared by yoga is more mobile and more flexible. It is a preventive measure against the risk of injury.
It allows us to have a better consciousness of our body.
To improve our balance in motion and our aptness
To develop our respiratory capacities (pranayama)
To calm the mind in a delicate situation on the wave (meditation)
Improved quality of life
Integrating yoga into surfing is a great way to better « connect » the body to the environment.
Practicing in a natural environment is an incredible source to better feel the energy that flows through you.
The surfing lessons of : ENERGY SURF SCHOOL into YOGA take place at Messanges, North beach.
Practice Yoga throughout the week with postures adapted to surfing for children and adults.
Choice of : SURF or SURF + YOGA.
Insurance and equipment included
Summer Yoga: From July 1st Yoga classes will take place between forest and ocean.
Mondays and Wednesdays at 9:00 am for 1:30
Tuesdays and Thursdays at 7:00 pm for the sunset
Every other week the morning classes will be switched to the evening and vice-versa (for the course on the beach, preferably at low tide)
Le planning et horaires seront établis chaque dimanche soir sur Facebook et indiqués au container n° 11, parking du Sémaphore.
Minimum 3 personnes et ouvert à tous sur réservation.
En cas d'annulation du au mauvais temps les cours pourront s'effectuer exceptionnellement selon la disponibilité de la salle JULIA à Moliets ou reporté.

« Believe in dreams and they will perhaps come true. Believe in yourself and they will surely come true. »
Martin Luther King
Group surf lessons from April to October - surfing session + warm up yoga: 2H00

SURF KIDS: max 6 children from 7 to 11 years old - SURF Teens / Adults: max 8 people
Hatha Yoga session of 1H30 - minimum 3 people on reservation (for 5 day surf course)
Please contact me for groupe rates.
In case of cancellation because of adverse weather conditions (storm, flat ocean) surf lessons could possibly be replaced by SUP Yoga-Pilates ect... or either postponed or refunded.
SURF TEENS / ADULTS
SESSIONS
RATES / PERS.
1 LESSON
1 x 1H30
35 €
3 LESSONS
3 x 1H30
100 €
5 LESSONS
5 x 1H30
150 €
10 LESSONS
10 x 1H30
255 €
PRIVATE LESSON
1 x 1H00
60 €
SURF KIDS
SESSIONS
RATES / PERS.
1 LESSON
1 x 1H30
30 €
3 LESSONS
3 x 1H30
85 €
5 LESSONS
5 x 1H30
135 €
10 LESSONS
10 x 1H30
220 €
+ SUMMER YOGA
JULY / AUGUST
RATES / PERS.

(minimum 3 pers.)

1 x 1H30
15 €

(minimum 3 pers.)

3 x 1H30
39 €

(minimum 3 pers.)

5 x 1H30
55 €

(minimum 3 pers.)

10 x 1H30
95 €
THE PACKS
ENERGY FORCE BALANCE
RATES / PERS..
TRAIL PACK "surf therapie "


(minimum 3 pers.)

1 x SURF + 1 x SUP YOGA (2 x 1H30)
+ 1 massage (reflexology) by Obaïa (30mns)
85 €
ORDER a GIFT VOUCHER
BOOK your package before July 3rd ! Book 5 lessons : 10% off

The surf school « ENERGY SURF SCHOOL INTO YOGA « in Messanges is open from April to October
By booking your Surf or Sup Yoga pack by email for the period of July and August, you will benefit from a unique price for a training course of 5 sessions.
The massages are done by Carine , masotherapist, certified in Messanges, at the Well Being centre OBAÏA – 30mins of massage of your choice (foot reflexology, back or legs)
The deposit requested for training courses booked by email or by registration form is 30€ – see contact address at the foot of the page.
A confirmation email will be sent to you.
The balance is payable on your first lesson.
Any cancellation less than one week before the scheduled date will result in the loss of your deposits.
Please contact us for any reservations by email or phone or download our registration form.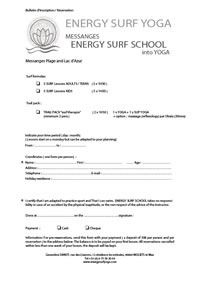 Download the form
Possibilities of accommodation in Messanges in the heart of the forest, close to the main beach, shops nearby. – 10% reduction on surf lessons reserved at one of these :