Energy Surf School into Yoga
The Energy Surf School is open from April to October. Surfing courses and lessons are offered on the central beach of north MESSANGES, in the heart of the Landaise forest, near campsites and summer residences, and supervised by a qualified instructor and pluri-disciplinary of various sports activities for over 20 years. GENE will accompany you with kindness and conviviality by putting all her professional skills to use with quality services in complete safety as well as a different pedagogy, Montessori way.
Energy surf School, a school at your disposal, its priority: To transmit
– The respect, the conviviality, the solidarity
– The knowledge of the ocean such as, currents, baïnes, formation of the swell
– Make you progress at your own pace by having fun on the board
RDV in the Semaphore car park at the container n ° 11.
Group lessons and private lessons, all levels, depending on the conditions of the ocean.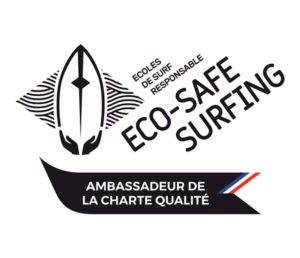 EQUIPMENT
Surfboards and wetsuits, adapted to each individual
TEACHING
Teaching adapted to age and level of each individual
Knowledge of the environment
Groups are 8 people maximun for adults in group lessons and 6 for Kids with a different approach and pedagogy way MONTESSORI, but the baggage remains the same and are supervised by state-certified instructors.
Our teaching is based on experience, pragmatism and observation, whether for the child or the adult. The different surf progression classes have always fascinated and taught us things. Thus was created our perpetual questioning on the pleasures of surfing. …read more
Quote by Maria Montessori:
« The first step to fully solve the problem of education should not be towards the child, but towards the educator. One must bring clarity to one's consciousness and free it from a large number of prejudices. »
Maria Montessori is a doctor of medicine, psychiatrist, anthropologist and philosopher. She developed her pedagogical approach in the early twentieth century and was a forerunner in the observation and understanding of the child. It is perceived as a worthy person and a full individual. It is based on the laws of natural development of the child both physiological and psychic, based on the desire to learn and the conquest of independence.
That's why our team draws inspiration from it to free students through surfing and the marine environment. The idea is that the child grows up and develops optimally in the environment of sliding sports. But where would adults fit in this context? In a world of big kids …
Our role is to make you evolve in an atmosphere where you feel protected, integrated, loved and needed. We share our knowledge through positive exchanges and encouragement. The child (or adult) has our respect and support when learning. Thus, your listening and your way of approaching the difficulties become essential for the basic orientation of our surf courses.
Our goal is to organize and secure the space while promoting your autonomy and confidence. The person becomes the main actor of his learning through experimentation to enable him to find, with our help, the solution by itself.
Our essential step is to modify the "reward" scheme, in which we, monitors, have evolved so far. The child (or the adult) defines her or his learning speed in a less rigid context without pressure. The delivery of the passport at the end of the week simply serves to show its evolution.
This educational approach combines with the technical approach of the FFS and the Ministry of Youth and Sports we have been trained in and in which we graduated.
We are looking forward to welcome you! The Energy surf school team
SECURITY
Maximum 8 students in each lesson
Lessons according to tides and conditions
Lifeguards nearby
Equipment and insurance included

« We can't stop the waves, but we can learn to surf. »
Jon Kabat-Zinn
GROUP SURF LESSONS from april to october
SURF TEENS/ADULTS: 30 min. warm up yoga + 90 min. surfing session - max 8 persons
.
SURF KIDS: 30 min. warm up yoga + 60 min. surfing session - max 6 children from 8 to 10 years

Also available in july and august:
Yoga or Pilates session of 60 min. + Surf lessons of 90 min. with minimum 3 people on reservation.
Low season (April, May, June) : SURF course - 10% off.
Please contact me for other groupe rates.
SURF TEENS / ADULTS
SESSIONS
RATES / PERS.

1 LESSON
1 x 1H30
40 €
3 LESSONS
3 x 1H30
115 €
5 LESSONS
5 x 1H30
160 €
SURF KIDS
SESSIONS
RATES / PERS.
1 LESSON
1 x 1H00
35 €
3 LESSONS
3 x 1H00
95 €
5 LESSONS
5 x 1H00
140 €
ENERGY FAMILY PACK
SESSIONS
RATES / PERS.
1 LESSON

(minimum 3 pers.)

1 x 1h30
37 €
3 LESSONS

(minimum 3 pers.)

3 x 1h30
100 €
5 LESSONS

(minimum 3 pers.)

5 x 1h30
150 €
PRIVATE LESSON
SESSIONS
RATES / PERS.
1 PERSON
1 x 1H00

75 €
2 PERSONS
1 x 1H00
65 €

ORDER a GIFT VOUCHER
In case of cancellation because of adverse weather conditions (storm, flat ocean) surf lessons could possibly be replaced by Yoga-Pilates ... or either postponed or refunded.
The surf school « ENERGY SURF SCHOOL INTO YOGA » in Messanges is open from April to October
By booking your SURF COURSES for the period of July and August before July 3rd, you will benefit from a price reduction of 10% for a course of 5 sessions.
The deposit required on the amount of a course booked by phone, email or inscription form is 30€ and sent by mail or by bank transfer. Please, see the details in the form.
A confirmation email will be sent to you.
The balance is payable on your first lesson.
Please refer to our general terms and conditions for information on cancellation conditions.
Please contact us for any reservations by email or phone or download our registration form.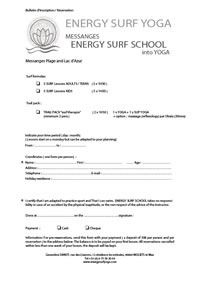 Download the form
Possibilities of accommodation in Messanges in the heart of the forest, close to the main beach, shops nearby. – 10% reduction on surf lessons reserved at one of these :